Geographical Scope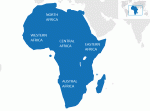 • Eastern Africa
• Central Africa
• North Africa
• Austral Africa
• Western Africa
Background
There were two major achievements of the Africa region during the previous forums: The African Water Vision and Framework for Action, which were launched at the 2nd World Water Forum in Hague, 2000; and the Africa Regional Papers, which were released at the 4th and 5th World Water Forum (Mexico, 2006; and Istanbul, 2009). Through the support of numerous partners, the African Ministers Council on Water (AMCOW) has provided regional leadership since the 3rd World Water Forum.
The Africa regional process
The current Africa regional process builds on the outputs of the 5th World Water Forum and of the 2nd and 3rd African Water Week, the roadmap for implementation of the Sharm el Sheik commitment, and the Africa Water Vision. In preparation of the 6th World Water Forum, the Africa regional process is mobilizing key regional stakeholders, including managers and policy-makers, to select main water related issues in the region, and to identify existing or innovative solutions. The First Multi-stakeholders Forum in Cape Town, South Africa (21 March 2011) marked a major step in the Africa preparatory process. This consultative event involved 50 participants from the Africa region. Through interactive sessions a consensus was reached on 9 ambitious and SMART targets (see below).
Priorities and preliminary Targets in the region
The following priorities have been identified and prioritized in coherence with the Africa Water Vision and the AMCOW priorities;
Develop and implement sanitation and water plans to bring back on track the neglected areas including post conflict countries, informal settlements and slums, rural communities, and small towns by 2015.

Develop youth and water strategy by 2012 and AMCOW Gender Strategy implemented in all countries by 2015.

Conduct regional dialogues on the 1997 UN Convention on International Watercourses and on the UNGA Resolution 63/124 on the Law of Transboundary Aquifers, and compile points of agreement and objections for wider consensus by 2015.

Establish five sub regional and ten national centers/network of Excellence by 2015.

Develop and implement in all countries innovative financial mechanisms including taxes, tariffs, and transfers to meet the MDGs Financial requirements by 2015.

Create fully functional water divisions within RECs / AMCOW sub-regional Secretariats/ organizations supported by resource pools by 2015.

Develop harmonized national, basin and regional knowledge management and water information mechanisms to support a harmonized methodology of M & E for the water sector in Africa and a pan-Africa state of the water report by 2015.

All African countries undertake legal and institutional reforms to ensure accountability, participatory, efficient and sustainable WSS and WRM at national (2015) and basin (2025).

Integrate water security and climate resilience into country national development plans and enhance African Water sector representation in the negotiation on climate change starting by COP 18 to ensure access to incremental funding by 2015.
Regional Coordinator and key partners

Regional Coordinator
Mr. Bai-Mass Taal
African Ministers Council on Water (AMCOW)
http://www.amcow-online.org/
Key partners (this list is as present)
AMCOW sub-regional and national organizations; regional organizations (AUC, ECA, AfDB, UN Water Africa, WSP, RECs, RBOs); International multilateral and bilateral development partners; ministerial institutions (AMCEN, AMCOST); key development actors representing the energy, agricultural, urban and industrial sectors; parliamentary and government representatives, and civil society organizations (CSOs).
For more information, email us at: africa@worldwaterforum6.org